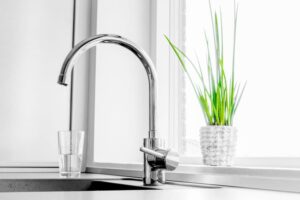 Our plumbers from DC Drains & Plumbing will install any plumbing fixtures that you want to use in your house. Before we leave, we'll make sure the new fixture is working just the way you need it to and that you're satisfied with our work! We can also provide ideas about fixtures that will work well and match the aesthetic of your home.
Whenever you need plumbing installation in Orange County, call us right away!
We Can Repair and Install Any Plumbing Fixture
There's no plumbing fixture we won't install for you! Call us whenever you need:
Drains
Faucets
Showers and Showerheads
Bathtubs
Sinks
Dishwashers
Garbage Disposals
Toilets
Water Filters
And more!
No matter what you need, your plumber from DC Drains & Plumbing will get your Costa Mesa plumbing installations finished fast!
Kitchen Plumbing Fixtures
We can help you with everything from changing out a few fixtures to a total kitchen remodel. Our team will make sure your kitchen looks great and works optimally before we leave.
Garbage Disposals
We'll get you a powerful garbage disposal that you can rely on no matter what, and make sure it's working well for you, too! Our appliance installation team will get the job done to your satisfaction.
Sinks & Faucets
Update your sink and faucet to change the look of your whole kitchen. We can show you how. Our sink and faucet installation team will upgrade your kitchen fast!
Dishwashers
We'll make sure your new dishwasher won't leak or cause other water damage issues in your home.
Bathroom Plumbing Fixtures
Improve the look and functionality of your bathroom and use less water, too! We'll make sure you're completely happy with your bathroom before we leave.
Bathtubs, Showers, & More
We'll handle your new bathtub, shower, or shower head installation ASAP. Give us a call and we'll be there soon!
Toilets
When you need a new toilet or a bidet installation, rely on us to complete the job quickly and efficiently!
Sinks & Faucets
When you need new bathroom sink or faucet installation, our team specializing in Costa Mesa plumbing installations will be there right away
Water Filtration
Get the water filtration power you've always wanted. Our water filtration installation team will help improve your water quality with a single appliance installation. Stop worrying about what you're drinking and call us today!
At DC Drains & Plumbing, our plumbers are ready and waiting to handle any plumbing installation in Orange County that you need to have done. Call now and improve your plumbing today!