Plumbing & Sewer Services in Atwood
When you need a plumber in Atwood who will help you take care of your home and live well, contact us at DC Drains & Plumbing ASAP. From hydro jetting and sewer repairs to slab leak detection and backflow testing, we do it all! We'll get to you fast and take care of your plumbing problem quickly. And if you're a business or own other property call us for your commercial plumbing in Atwood!
Plumbing Repairs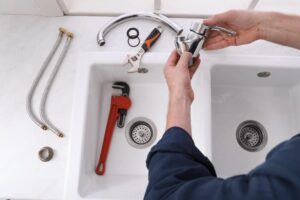 No matter what plumbing repair you need to have done, our plumbers from DC Drains & Plumbing will take care of the issue. We'll assess your home to make sure we implement the best possible fix, then start soon so we can finish on time. We work 24/7 and even offer emergency plumber services and emergency sewer line services in Atwood to be there whenever you need them.
Plumbing Installations
Whether you need to have a plumbing appliance installed or you're looking at new fixtures and faucets, our team will get the job done fast. We'll put in anything you need related to your plumbing system, then test our work and get out of your way.
Drain Cleaning
When you call a plumber in Atwood because you need help with drain cleaning, you need someone who will get to you fast. We'll find your clog, then get it out or break it up so you don't have to deal with it anymore.
Sewer Lines
Problems in your sewer lines are never fun, but your experts in plumbing in Atwood will take care of any problems fast. We offer sewer camera inspection in Atwood to see what kind of clogs, sewer cracks, sewer breaks, and any other type of sewer problem you are dealing with. Then we can come up with a plan for your sewer repair in Atwood.
Whenever we can, we'll use trenchless sewer repair methods to fix your lines. These minimize the stress and hassle you experience and they cost less, too. We also do hydro jetting and sewer line cleaning in Atwood to get pipes cleaned out and functioning properly again.
Slab Leak Detection
When you call us for help, we'll send out an expert in slab leak detection in Atwood. We'll use the latest technology to locate your slab leak and try to determine how significant it is. Once we know where it is, we'll be able to come up with the best possible plan for fixing it.
Gas Line Service
Plumbers from DC Drains & Plumbing can work on gas lines, too. When you need a gas line repair or other gas line services in Atwood, give us a call. We'll get to you quickly because we know that gas line problems can't wait.
Your Plumber in Atwood
Contact us anytime for on-demand plumbing service to meet all of your plumbing needs. Trust DC Drains & Plumbing the next time you need an Atwood emergency plumber or need sewer service at home! No matter what you need, we'll walk you through the process so you'll always know what to expect from our Atwood plumbers.