Santa Ana Drain Cleaning
When drain troubles come knocking in Santa Ana, fret not! DC Drains & Plumbing is your trusted Santa Ana plumber, ready to address your concerns head-on. Whether you're grappling with sluggish drains or suspect sewer issues, we've got the solutions you need. Bid farewell to drain-related worries as we step in to resolve the problem, leaving you with peace of mind.
Identifying Drain Distress Signs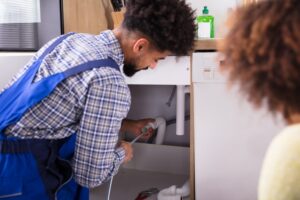 Sometimes, drain issues are as clear as day – like a stubborn clog that just won't budge. Yet, when problems run deeper, pinpointing the root cause can be a challenge. Here's when you should consider the expertise of a professional Santa Ana drain cleaning service:
Unpleasant Odors: A clogged drain accompanied by unpleasant odors suggests a potential obstruction in your pipes or sewer line. Typically, sewer gasses escape through the drain, but when they can't, they may infiltrate your living space. Time to act swiftly!
Persistent Clogs: An occasional clog is understandable, but if it becomes a recurring problem, it's time to call in the experts. Our skilled plumbers will not only clear the clog but also diagnose and eliminate the underlying cause, preventing future issues.
Mysterious Wet Areas: Sewer clogs can lead to backflow into your yard. If you spot unexplained wet patches in your yard, it's worth investigating further. Call a plumber to assess your Santa Ana drain cleaning needs and ensure your drain is clear.
Housewide Blockage: If multiple drains in your home simultaneously decide to misbehave, it's a sign of a more extensive issue downstream. Since all drains connect to the sewer, widespread clogs may indicate a problem further along the line, necessitating a professional inspection.
Equipped with Cutting-Edge Tools for Quality Solutions
Our plumbers arrive armed with top-tier tools in Santa Ana. From professional plumbing snakes to advanced hydro jetting equipment, we're prepared to tackle your drain challenges. If a plumbing snake or hydro jet can resolve your drain issue, consider it done with precision and expertise.
For more stubborn clogs, our plumbers won't back down. They'll meticulously assess the situation, explain the necessary plumbing repair steps, and execute the solution efficiently. Rest assured, your life will soon return to normal.
Dependable and Efficient Plumbers at Your Service
When you choose DC Drains & Plumbing for your Santa Ana plumber repair, you're selecting courteous, skilled, and efficient Orange County plumbers who understand your drain concerns. Whether it's a minor inconvenience or a significant setback, our team is committed to ensuring your drains run smoothly again. So, reach out to us today and let us handle your drain challenges – your peace of mind is our ultimate goal!