Costa Mesa Professional Drain Cleaning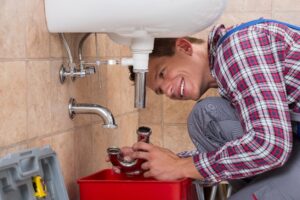 No matter what the problem is with the drain in your Costa Mesa home, our DC Drains & Plumbing plumbers can fix it for you. It can be stressful to realize that your drains are too slow or to recognize that there might be a problem with your sewer, but you don't have to worry. Instead, let us handle the issue so you don't have to worry!
Signs You Need a Drain Cleaning
Sometimes, it's pretty clear that your drains are having problems. You may have a clog that you can't clear. However, if the problem goes deeper than that, it can be hard to tell exactly what needs to happen. Here are some signs that indicate you need a professional drain cleaning:
Repeated clogs. Every home suffers a clogged drain now and then. Maybe you put too much down it at once or your children washed something down that doesn't belong there. If, however, your drains need cleaning regularly, it's time to call a plumber. We can figure out why the problem keeps repeating itself and fix it once and for all.
Clogs throughout the house. If all of your drains start clogging at once, that's a sign that there's a problem somewhere down the line. All of your drains flow into your sewer, so you may need to have that line cleaned out. When one drain has an issue, the problem is likely local. When they all have issues, you'll want a professional to figure out what's going on.
A sewer smell. If your clogged drains come accompanied by a bad smell, it means that there is a clog in one of your larger pipes or in your sewer. Usually, sewer gases escape the same way the water does – by going down the drain. When they can't escape that way, they will often come back into your home (backflow) and you'll smell them until you deal with the problem.
Wet spots in your yard. Sometimes a sewer clog will cause backflow into your yard, rather than into your home. If you notice wet spots in your yard that you can't explain any other way, call a plumber. He or she can tell you if the problem is with your sewer and what needs to be done to clean that drain.
When our plumbers come to you, they will bring top-of-the-line equipment. This includes professional plumbing snakes, which are of a higher quality than the ones you can rent at the hardware store, as well as top of the line hydro jetting equipment. If a snake or hydro jet can fix your Costa Mesa drain, our plumbers will get the job done. 
If a snake can't get the job done, they'll figure out what will work. They'll explain the plumbing repair to you and get the job done so that you can go on with your life as usual.
When you call DC Drains & Plumbing, you can rest assured that our plumbers will be polite, skilled, and efficient. We pride ourselves on taking care of your drain problems, no matter how big or small they are.