City of Costa Mesa Sewer & Drain Services
Does your water run slowly? Maybe your toilet struggles to flush or it overflows every time you run your dishwasher. All of these problems can be signs that your sewer drain needs cleaning.
This can sound like an overwhelming task, but you don't have to do it alone. At DC Drains & Plumbing, we're experienced in all types of Costa Mesa sewer and drain services, including backflow testing, ejector pumps and sewer pipe locator services! We'll get your house running well again, so you won't have to worry anymore. 
Just call us. Our operators will answer your questions, then they'll schedule a convenient time for an experienced plumber to come out. Our Costa Mesa plumbers arrive on time, ready to work. They'll listen to you describe the problem, test your pipes for themselves, and make an assessment about what needs to happen. Finally, they'll get your plumbing fixed so you won't have to feel anxious about it anymore. 
Our City of Costa Mesa Sewer Services Include:
Costa Mesa Sewer Repair
Sewer Line Cleaning in Costa Mesa
Costa Mesa Drain Cleaning
So, your sink drains slowly. Maybe you've cleaned it out so many times or you've poured a chemical solvent down it, only to find that it's still backed up. That's when you call our team.
Our plumbers come with equipment for your Costa Mesa drain cleaning on their trucks. This includes a camera for video pipeline inspections, and the plumber's best friend, the plumbing snake. These snakes aren't like the ones you can rent at your local hardware store, though. They are professional, heavy-duty snakes, designed to clear out drains fast, without getting stuck inside them.
We also offer hydro jet drain cleaning in Costa Mesa for a more powerful drain cleaning option (learn more about what hydro jetting is in our comprehensive blog).
No matter what it takes to finish your Costa Mesa drain cleaning, our plumbers are up for the job!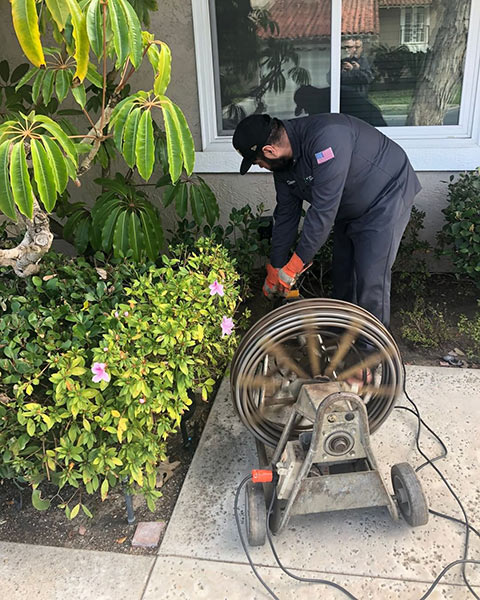 Costa Mesa Sewer Drains
Sometimes, a clogged drain indicates a larger plumbing issue. If we find that you need a sewer cleaning in Costa Mesa, we'll get that done, too.
Here are a few things to look for when you're deciding if you need sewer repair in Costa Mesa.
Repeated clogs. When your sewer drain gets clogged, drains will clog up constantly. In fact, you may feel like you spend all of your time on drain cleaning.
Multiple clogs at once. If your sewer is clogged, then nothing can drain out of it. This means that your kitchen, your dishwasher, your bathroom, your washing machine, and more could all back up at once. When this happens, the problem is almost always in the sewer.
Unusual plumbing issues. When the sewer is clogged, big volumes of water can't go down it. This means that, when your bathtub drains or your washing machine finishes, all the water has to go somewhere. If it appears in your toilets, sinks, or tubs, you probably have a sewer clog.
When you call us at DC Drains & Plumbing, you're calling in some of the best plumbers for sewer cleaning and sewer repair in Costa Mesa. Our staff of plumbers in Orange County has the ultimate skill set for cleaning all types of pipes, including cast iron, which they've gained through training and hard work. Their experience gives them the ability to work out any plumbing problem, whether it is large or small. What's more, we offer the best in trenchless sewer technology, so we can get the job done with minimal impact to your property.
Whether you need a drain cleaned out or a full sewer cleaning in Costa Mesa, DC Drains & Plumbing will get the job done quickly, so you can get back to your normal schedule soon.