Los Alamitos Plumber & Sewer Experts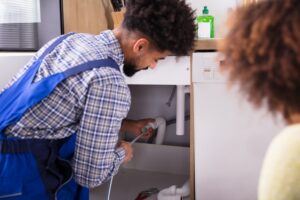 Looking for a reliable Los Alamitos plumber for residential or commercial plumbing or sewer help? Call us at DC Drains & Plumbing today! We have the skill and expertise to handle anything you may need for your Los Alamitos plumbing to work the way you need it to. We're the trusted plumbing company near you that you've been looking for!
Plumbing Services
We offer a complete line of plumbing services, including repair, replacement, and installation. When you call DC Drains & Plumbing for a Los Alamitos plumber you can rest assured that your plumbing issues will be a thing of the past!
Emergency Plumber
Contact our Los Alamitos plumber whenever you have a plumbing emergency. We'll be there soon and fix your plumbing problem quickly.
Slab Leak Detection & Repair
If you suspect a slab leak problem, rely on our team for slab leak detection in Los Alamitos. We will be there soon and find that leak fast.
We will get to work on your slap leak repair in Los Alamitos as soon as possible. We use minimally invasive methods and work quickly to get you back to normal ASAP.
Gas Line Services
Our Los Alamitos plumbers can work on your gas lines, too! Whether you need emergency gas line repair, or gas line testing, we'll make sure your gas lines are in great shape and completely safe before we leave!
Drain Cleaning Services
Getting rid of clogs is easy! Just call us for drain cleaning in Los Alamitos and we'll be there to eliminate yours soon!
Backflow Testing
Take care of your state requirements for backflow testing in Los Alamitos when you work with our team. We'll get you the paperwork you need fast!
Sewer Services
No matter what you need for your Los Alamitos sewer, we have you covered at DC Drains & Plumbing!
Los Alamitos Sewer Repair
Whether you have a break in your line, a belly, or another problem, we'll complete your sewer repair in Los Alamitos fast!
Trenchless Sewer Repair
If possible, we'll repair your lines using trenchless sewer repair methods. These can make the repair faster and cheaper for you.
Sewer Line Cleaning
If you have a clog in your sewer line, call our team for sewer cleaning in Los Alamitos ASAP. We'll get rid of that clog fast!
Hydro Jetting
Hydro jetting is one great way to eliminate clogs and clean out your pipes. We'll get to work and leave your plumbing in Los Alamitos looking brand new!
Sewer Ejector Pumps
We can fix sewer ejector pumps, install new ones, and test yours. Call now to make sure you have the sewer ejection power you need.
Sewer Camera Inspection
Call us for a sewer camera inspection in Los Alamitos! Whether you're buying a home, when you need a repair, or when you think you have a clog but are not sure, we can help!
Emergency Sewer Line Services
Sewer problems are often an emergency. Call us anytime for emergency sewer line services in Los Alamitos to get your sewer problems taken care of now.
Commercial Plumbing
Our Los Alamitos commercial plumbing team will take care of all of your business-related plumbing needs. Schedule an appointment now and get back to business as usual soon.
Rely on DC Drains & Plumbing whenever you need a fast, friendly, and reliable Los Alamitos plumber for your plumbing or sewer service. Give us a call and schedule your appointment today!